References are an important part of finding a reputable breeder. The following people will be very happy to give you a reference by email. All on the list have been to my home and know how I care for my dogs.
Click a name below to email for a reference!
Christie Noel – Pennsylvania
Louisa McAllister – Virginia
Cindy King – Maryland
Andrea Bidelspach – Pennsylvania
Jeff Holzman – New Jersey
Maureen Cavaiola – Severna Park, MD
"Happy New Year. I know you don't remember me but I purchased a poodle from you about two years ago his name is Coco Royal (my name is Yetta Royal) and his parents are Tobie and Bell. Coco has truly changed my family and he is the joy of our day. Even my husband who is a clean freak is always buying new toys and sweaters for Coco which end up all over the house. We go on long walks with Coco as part of our exercise program and we are surprised at how much Coco looks forward to the 2hr walks. All that being said we have come to the conclusion that Coco needs a companion and we would like to find a good playmate for him this year. We are thinking of the brown poodles and I would like the playmate to be male and a toy poodle although Coco is a toy he is a little tall but I would like a smaller toy poodle. Please let me know if you might have a brown poodle available some time this year and if possible the name of the mom and dad so I can see them on the website."
-Coco's Family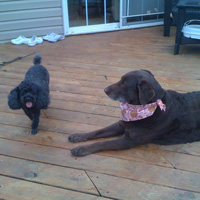 "Every day I think how wonderful Bella Jewel(Scooter) has been as a member of our family. She is so sweet and wonderfully ornery. While, we never intended her to be a show dog, she is beautiful and most definitely our princess. We were somewhat concerned initially when we were considering bringing a toy poodle into our home, due to the size difference between her and our our Chesapeake Bay Retriever. Our vet had warned us against the potential damage that a larger dog could do to a poodle of her size. However, I believe that it depends on the the particular dog. While, Tootsie(Mazoo) is a large dog with protective instincts, she has never been aggressive to other dogs. In fact I believe her protective instincts are one of the reasons that she would never hurt Bella. I am so glad we did not listen to our vet, because Tootsie and Bella Jewel have been inseparable ever since the two of them were introduced to each other eight years ago. I honestly believe that they are great company to each other when we are at work and unable to be at home with them."
-Collin S.
"Thought you might like to see Barney at his new home, and see how happy he is. He does miss his Miss. Linda, but he really likes his new toys. He is still golden, potty training is going remarkably well, still only a few accidents (maybe 4 or 5) in the house, he sleeps at night in bed with me and no accidents, I have to wake him up to go potty in the middle of the night! Its great. The collar training and crate training have been a little hurdle for him, he really does not like the collar! But he is learning those easier now. My vet was very impressed with Barney, he said he was a good looking puppy. So here are just a couple of pictures. Talk to you soon, he cant wait to come visit for his grooming."
-Sherri
"I hope you are doing well. We sure are enjoying Maggie and Chloe. They play so well together and when they get together they just run all over the place and rock and roll with each other. I thought you might enjoy the photo."
-Maggie and Chloe's Family
I've been wanting to update you on Ruby James Pascuzzo. She is wonderful and truly beautiful and we are thrilled with our little (big) girl. Harmony's first litter! We love her so much.
She weighs about 10 lbs. and is long, lean, and runs the house like only a puppy can! Minnie Mae is now the alpha dog taking the role that our beloved Lulu Belle once ruled. She loves Ruby very much.
Ruby just completed her puppy obedience class (or rather I did) and with all the training I had given to the others I could see that Ruby would respond well…and she did. Her walk is like a prance and is mesmerized all the others at her class.
She is loving and generous and sweet and smart and so very playful with all of us, all the things we had hoped. She loves her pack and she has a wonderful life with us. Thank you for breeding such incredible dogs. Your love, affection, and care for all of them is a treasure to each and every one of us who brings a Homestead Poodles in to our lives.
I hope all is well in 'your neck of the woods'–we here in Mt. Laurel, send our very best to you!
-L & M Pascuzzo